The department of pharmacy was started in the sub-continent in 1944 at King Edward Medical College Lahore. When Pakistan came into being, this department was shifted to University of the Punjab in 1948. The department was upgraded to the level of Faculty by the University authorities in 1979. The Faculty underwent continuous progress in-terms of teaching and research facilities and students intake. At present, the Faculty of Pharmacy comprises of two institutions; Punjab University College of Pharmacy and Department of Natural Medicine. Under the directions of Pakistan Pharmacy Council, Punjab University College of Pharmacy is divided into five independent sections, namely:

1. Pharmaceutics
2. Pharmaceutical Chemistry
3. Pharmacology
4. Pharmacognosy
5. Pharmacy Practice

The college has the required infrastructure to offer pharmacy education and research at undergraduate and postgraduate level. The Faculty has a spacious library having more than 20000 subject books. I with my team will strengthen all the initiatives taken so far and take steps to start new programmes at graduate and postgraduate level, entrepreneurship and public-private partnership for community pharmacy. Moreover, we will educate and equip our students to play their role in local and international healthcare system.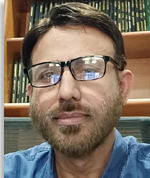 Dean
Vacant
dean.pharmacy@pu.edu.pk