The Teaching profession is considered the backbone of the educational system of a country. The Faculty of Education at the University of the Punjab pioneered advanced level teacher training programs in Pakistan in 1959. The Faculty has been evolving and growing according to the social and technological changes in the society in general, and the educational environment in particular. It offers training programs for prospective teachers from the Bachelor to the Ph.D. level. The Faculty also offers courses and degree programs for the professional growth of in-service teachers. The Faculty takes pride in its Ph.D. Programs for providing leadership in the field of education throughout the country. Specific inquiry and analysis of educational issues is the hallmark of the Faculty and the on-campus faculty remains actively engaged in research, and collaboration with government and international agencies. The Faculty maintains a close link with educational institutions through its student teaching practice and otherv, activities.
Degree Programs offered.
Ph.D.
Education, Special Education.
M.Phil.
Master of Philosophy in Education
MASTER:
Elementary Education, Early Childhood Education, Secondary Education, Science Education, Islamic Education, Business Education, Technology Education, Educational Administration, Special Education, M.A (ELTL), M.A in Educational Research & Assessment
BACHELOR:
B.Ed., B.S.Ed. All such courses are, offered through affiliated colleges only.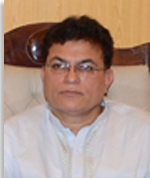 Dean
Prof. Dr. Mumtaz Akhter
dean.education@pu.edu.pk