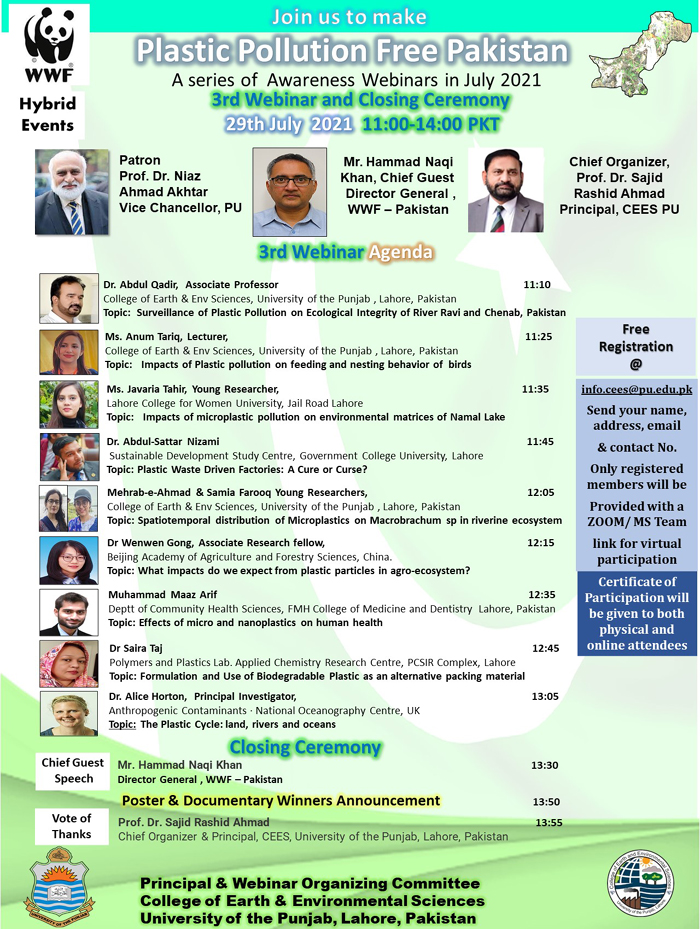 A Series of Awareness Webinars (Hybrid Events) on Plastic Pollution Free Pakistan was organized by the College of Earth and Environmental Sciences (CEES), University of the Punjab, Lahore on 1st, 8th & 29th July, 2021. These webinars focused on the theme of Plastic Free Pakistan in order to create awareness among the individuals / public.
Today, on July 29, 2021 the 3rd and final webinar was held in context of Plastic Pollution Free Pakistan and the Chief Guest for this webinar was Mr. Hammad Naqi Khan, Director General, WWF-Pakistan. The third webinar was started with the verses from the Holy Quran followed by Naat. This webinar was proceeded with the welcome address by Prof. Dr. Sajid Rashid Ahmad. He described that how plastic is destroying our environment.

The first speaker of the webinar was Dr. Abdul Qadir, Associate Professor at the College of Earth and Environmental Sciences (CEES), University of the Punjab, Lahore. His topic of presentation was "Surveillance of Plastic Pollution on Ecological Integrity of River Ravi and Chenab, Pakistan".
Ms. Anum Tariq, Lecturer, CEES, P.U., Lahore was the second presenter. Her Topic of Presentation was "Impact of Microplastic Pollution on Feeding and Nesting Behavior of Birds".
Javeria Tahir, young researcher of Lahore College for Women University, Lahore presented on Impacts of Microplastic Pollution on Environmental Matrices of Namal Lake.
A very well-known researcher Dr. Abdul Sattar Nizami from Sustainable Development Study Centre, Government College University (GCU), Lahore also joined the webinar to present on Plastic Waste Driven Factories – A cure or Curse?
Another young researcher of the CEES, P.U., Lahore Ms. Mehrab-e-Ahmad and Ms. Samia Farooq gave their lecture on "Spatio-temporal Distribution of Microplastics on Macrobrachum Sp. In Riverine Ecosystem".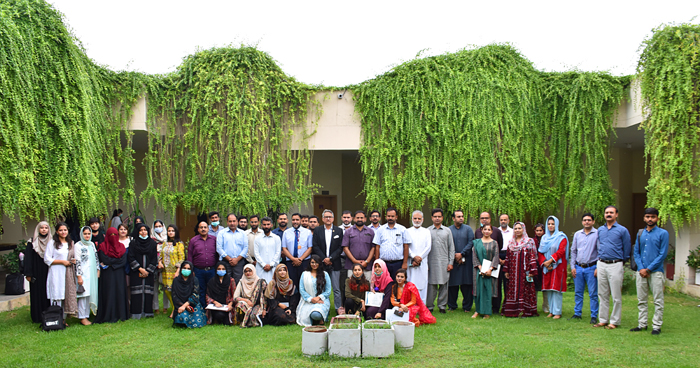 Dr. Wenwen Gong, Associate Research Fellow, in Beijing Academy of Agriculture and Forestry Sciences, China gave an Interactive Session on the topic "What Impacts do we Expect from Plastic Particles in Agro-Ecosystem?
Dr. Muhammad Maaz Arif from Department of Community Health Sciences, Fatima Memorial Hospital, College of Medicine and Dentistry, Lahore, Pakistan highlighted the Effects of Micro and Nanoplastic on Human Health.
Dr. Saira Taj, Technical Expert from PCSIR informed the audience about Formulation and Use of Biodegradable Plastic as an Alternative Packing Material.
The last speaker Dr. Alice Horton, Principal Investigator at Anthropogenic Contaminants, National Oceanography Centre, United Kingdom (UK) described the "Plastic Cycle: Land, Rivers and Oceans".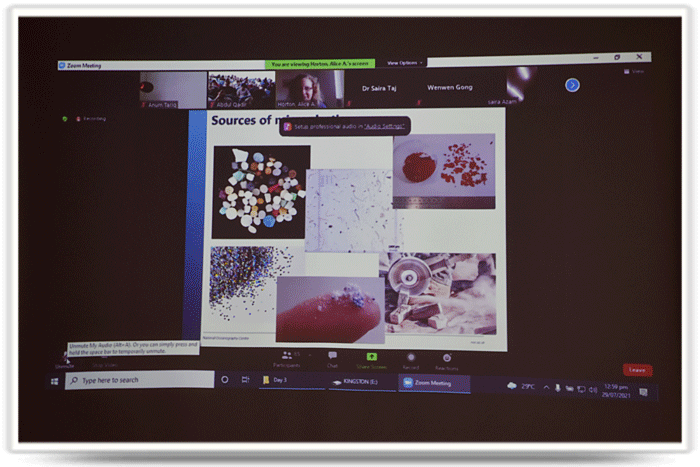 Lastly, Mr. Hammad Naqi Khan, Director General WWF-Pakistan was the Chief Guest of the webinar addressed the audience about the Role of WWF for Eliminating Plastic Pollution in Pakistan.
Mr. Hammad & Prof. Dr. Sajid Rashid Ahmad also distributed prizes among the winners of Poster and Documentray. The winner of the documentary was Ms. Mehrab and Ms. Samiya from CEES, P.U., Lahore and the winner of poster competition was Ms. Sadaf Tagor, US-Pakistan Centre for Advanced Studies in Water, Mehran University, Jamshoro, Sindh.
At the end Prof. Dr. Sajid Rashid Ahmad concluded the event by thanking all the participants, the organizers Dr. Abdul Qadir, Ms. Anam Tariq and all the volunteers who made this event successful.