LAHORE: (Friday, May 04, 2012): The Music Department of PU College of Art & Design organized music recital performance by its students and faculty members at Alhamra Hall number 3 late on Thursday. PU Vice Chancellor Prof Dr Mujahid Kamran was the chief guest on the occasion while PU Registrar Prof Dr Khan Raas Masood, Principal CAD Prof Dr Rahat Naveed Masood, Chairman Israr Chishtee, Shah Nawaz Zaidi, renowned vocalist Ustad Badar-uz-Zaman Khan, Jamshaid Chishti, Raqay Jameel, faculty members and a large number of students participated on the occasion.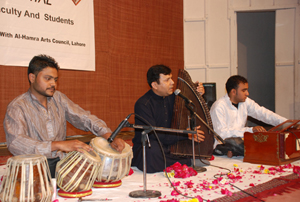 The students showed outstanding performance which enthralled the audience and captured their minds and hearts. Among Music Department students and faculty members, Shiza Khan presented Heer in beautiful voice while Asif Raza performed difficult Bhopali Raag in an excellent manner. Zubair Javed presented folk song while Usman Bashir sung Masood Rana's song "Teri yaad aa gai, ghum khushi main dhal gay" in lovely voice. Raqay Jameel played Raag Bahar on Sitar which really mesmerized the audience.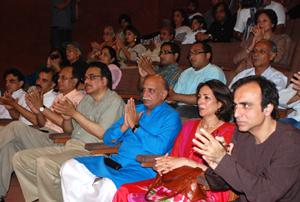 Alla-uddin Chohan present a Nusrat Fateh Ali Khan's item, Usman Khalid and Shoaib Abbas presented Kafis, Kanwal Suleman presented a ghazal and Khalid Baig sung Rafi's song. Jamshaid Chishtee's Ranjeesh-e-Sahi and Israr Chishtee's ghazal "Bazeecha-e-Atfal hay dunya meray agay" were so fascinating that everybody lost themselves in their voices. In the end, the performance of renowned vocalist Ustad Badar-uz-Zaman Khan touched the souls of the participants. Later in his address, PU VC Dr Mujahid Kamran appreciated all the performers on their quality performance.