Prof. Dr. Nasira Jabeen - Dean Faculty of Economics & Management Sciences (FEMS) & Director Institute of Administrative Sciences (IAS) visited Dr. Amjad Saqib - Executive Director Akhuwat, to enquire about his health. She was accompanied by faculty members including Mr. Muhammad Zahid, Dr. Yaamina Salman, Dr. Sidra Irfan and administrative staff members; Col. Muzaffar Ali, Mr. Shahzad Ahmad and Ms. Rifat Afzal. Dr. Saqib had to undergo a by-pass surgery while he was visiting Sweden about two months ago. He was quite humbled for faculty's visit. Dr. Shahid A. Zia - Director Akhuwat Institute of Social Enterprise Management (AISEM) & Visiting faculty member at IAS was also present at Akhuwat's office.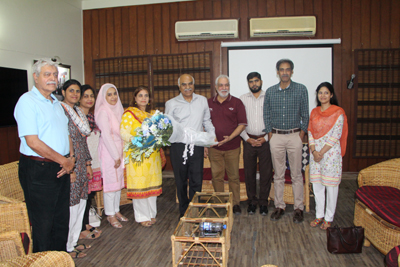 University of the Punjab & particularly IAS works closely with Akhuwat for various community development projects and epecially for the Clothes Bank drive. Faculty discussed upcoming projects of Akhuwat for further collaboration with University.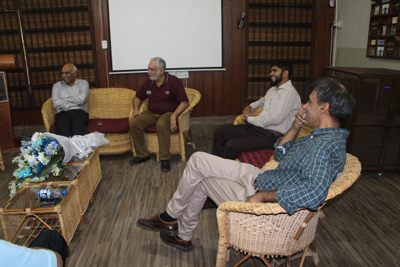 Dr. Nasira Jabeen shared with Dr. Amjad Saqib abou upcoming international conference of IAS in March 2018. Dr. Saqib shared his interest in participating at the conference and look forward to faculty's cooperaion for Akhuwat's University opening in August 2018.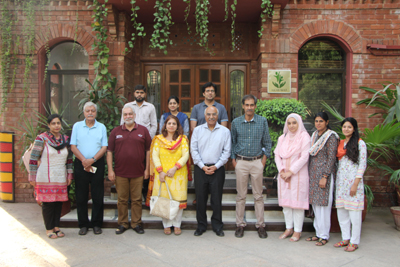 On behalf of faculty and staff of IAS, Dr. Nasira Jabeen presented a bouquet of flowers to Dr. Amjad Saqib and wished him good health & quick recovery.