The Vice Chancellor Professor Dr. Zaffar Moeen Nasar visited the Seed Centre and Botanical Garden of the University. The Chairperson of the Department of Botany, Prof. Dr. Firdaus-e-Bareen welcomed the Vice Chancellor along with the faculty at the Seed Centre and briefed about the developments going on in the Seed Centre. Then she explained the tasks already accomplished in the Garden and the future plan.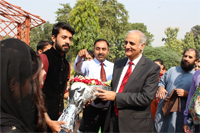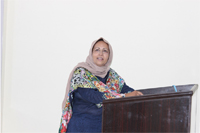 Later the Vice Chancellor visited the Garden and walked through the Garden where he was briefed about the developments by the faculty. The students of different programs welcomed him along the way. They displayed their ideas in the form of placards and models with the theme "We love our Botanical Garden, a valuable and sustainable resource". A committee of teachers evaluated the placards and the position holders will be awarded certificates and cash prizes in the upcoming International Conference.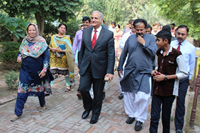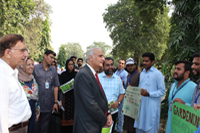 The Vice Chancellor appreciated the efforts of the Chairperson and the faculty in developing the Botanical Garden on scientific lines. The faculty thanked him for providing patronage and motivation for the tasks.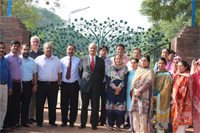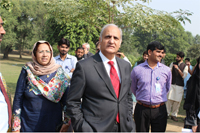 In the end the Vice Chancellor visited the experimental area of the Garden where he examined the various experiments on plants going on in greenhouses and wired houses. In the end he distributed cash prizes among the gardeners, guards and sweepers in recognition of their good performance in the uplifting of the Botanical Garden.