LAHORE: (Thursday, September 6, 2018): A media delegation from UAE (United Arab Emirates) visited Punjab University vice chancellor's office and Institute of Communication Studies on Thursday to know about university's role in the society and working of its media department.
The three-member delegation was headed by Gulf News Associate Editor Ms Jumna Al Tamimi and comprised Khaleej Times Senior Reporter David Light and Editor Al-Bayan Newspaper Mostafa Khalifa while form PU side Director External Linkages Prof Dr Kanwal Amin, In-charge ICS Dr Noshina Saleem, assistant professors Dr Rashed Khan and Shabbir Sarwar were present.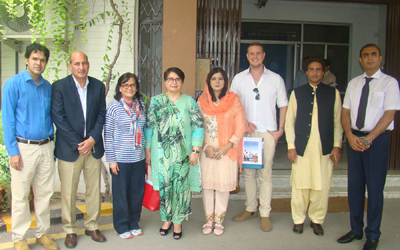 To a question about Pakistan and Pakistani people image, the delegation leader Ms Jumna said that the image of Pakistan in her mind was changed to 180 degrees as she was visiting the country for the first time.
Dr. Knawal Amin briefed the delegation that Punjab University has five campuses, 45,000 students from across Pakistan, 1000 regular faculty members. To a question she said PU has 51% female students and 49% male students with female faculty working on key posts. She said PU has signed MoUs with universities of US, Europe and Gulf Countries and she soon after taking charge as Director External Linkages was working to activate all these MoUs for exploiting these agreements to increase exchange of faculty and student.
Later in ICS, In-charge Dr Noshina Saleem briefed the delegation members about ICS radio FM 104.6, PUTV set-up, academic programmes and other facilities. ICS faculty and the delegation discussed areas of mutual interest.