LAHORE: (Friday, December 21, 2018): Punjab University Vice Chancellery Prof. Dr. Niaz Ahmad Akhtar, concluded three-day 3rd International Symposium on recent advances in Molecular Biology entitled "Advances in Molecular Biology of Plants and Health Sciences" at The Centre of Excellence in Molecular Biology here on Friday. Dean Life Sciences Prof. Dr. Firdous Bareen, Director CEMB Prof Dr Tayyab Husnain, eminent scientist Prof. Dr. Sheikh Riazuddin, faculty members and over 100 scientists from United Kingdom, Japan, Malaysia, Turkey, Nigeria, as well as from different prestigious institutes of Pakistan were present on the occasion.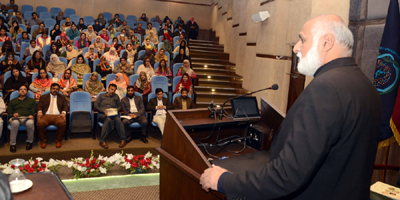 In his address, Prof. Dr. Niaz Ahmad Akhtar applauded the efforts of scientists and staff of CEMB for organizing a mega event and appreciated the productive idea of Dr. Tayyab Husnain to give researchers a chance to present their research. He further said that researchers at CEMB are doing wonderful job in disciplines of agriculture and health sciences and that it is need of hour to disseminate this knowledge to common man and other fellow researchers so that they may get help to play their part well in contributing to progress of our country. He said that CEMB must expand its research to other related areas as well as researchers at CEMB were full of potential. He said that PU administration would extend full support and fund this project for the benefit of society as well as country. He applauded the remarkable services of Prof Dr Riazuddin for serving the humanity through his research and establishing CEMB. He further hoped that symposium will provide platform for new international collaborations and students would benefit from experience of research scholar from different parts of world.
Director CEMB, Dr. Tayyab Husnain thanked eminent scientists for joining the concluding session. He said that basic purpose of this symposium was to gather molecular biologists working in different institutes and let them share their knowledge with others. CEMB being pioneer institute of molecular biology is always welcoming for such scientific gatherings. CEMB is progressing in molecular biology of plants and health sciences. CEMB has already developed Bt cotton varieties CEMB 33 and CA 12 which have been approved by Punjab seed council and are already in market. We have signed MOUs with various seed companies. Centre has produced more than 700 publications with overall impact factor of 1820. It has produced around 200 PhDs and more than 550 M.Phil students. He further said that during these 3 days, 180 participants joined the symposium. There were 7 technical sessions during the symposium consisting of 30 oral presentations and 38 poster presentations. He thanked the invited speakers Prof. Dr. Nessar Ahmad United Kingdom, Dr. Khurram Bashir from Riken Japan, Dr. Atif Amin Baig from University of Sultan Zainulabidin, Malaysia, Dr. Emrey Askoy from Nigde Halisdemir University, Turkey, Dr. Atteq ur Rehman from New York Genome Centre, USA, Dr. Muhammad Tariq LUMS, Lahore, Dr. Afsar A Mian, Agha Khan University, Karachi and Dr. Muhammad Ramzan from Quaid e Azam University, Islamabad. In the end, he thanked Higher Education commission, Pakistan and the major sponsors including Crop Life Pakistan, Four Brothers Group, Tara group, Sun Crop, Allah Din group, World Wide Scientific, Philco Pakistan for collaborating in organizing the mega event. He appreciated the efforts of organizing team and thanked honorable Vice Chancellor and dean for sparing time and joining the symposium.
Thirty eight posters presented from participants, were evaluated by distinguished scientists. CEMB best poster award was won by Rabeea Pervaiz. Sara Khan from CECOS Peshawar won the first position in poster presentation; Ihsan ul Haq from GC Faisalabad and Kanwal Iftikhar from Univ. of Karachi won second and third positions respectively. Among oral presentations, Ammara Ahad from CEMB won best CEMB presenter award, Dr. Sana Jabeen from Univ. of Education won first prize whereas Khadija Saleem and Maryam Iqbal won second and third prizes respectively.
The session ended at distribution of shields to the guests by Vice Chancellor Prof. Niaz Ahmad Akhtar and Director CEMB, Dr. Tayyab Husnain.