LAHORE: (Friday, September 28, 2018): Ms. Anne Marchal, Deputy Head of Mission/Minister at European Union Delegation to Pakistan, Visited University of the Punjab to give a presentation on to the faculty members and research students at Al-Razi Hall here on Friday. PU Registrar Dr Muhammad Khalid Khan, deans Prof. Dr. Taqi Zahid Butt, Prof. Dr. Shahid Kamal, Director External Linkages Prof. Dr Kanwal Ameen, faculty members and a large number of students were present on the occasion.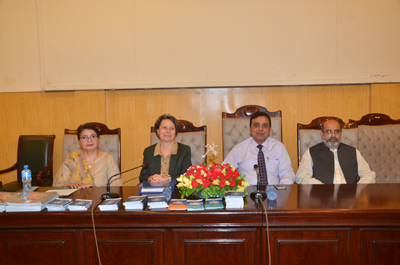 Ms. Anne Marchal threw light on the European Union's funded research and development programs for Pakistan which included HORIZON 2020 (Research and Innovation Assistance Program) and Erasmus Mundus Program (Scholarship and Exchange Program). She said that the aim was to promote these scholarships to attract Pakistani scientists and social scientists. Being the largest research and innovation programme in the world, HORIZON 2020 covers three priority areas i.e. Excellent Science (Researcher driven), Industrial Leadership (Industry driven), and Societal Challenges (Society driven), she added. She said that HORIZON 2020 projects offer exciting opportunities to extend research field, network, and career of the participants.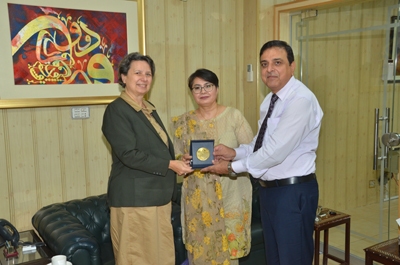 Ms. Marchal responded to the questions by the audience in the end. She was very impressed with the profile of the university and number of students enrolled in various programs. The souvenirs were also exchanged with her.