OBJECTIVES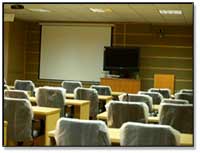 To enhance students teachers interaction through distance learning, bridge the gap of good faculty, meet the shortage of faculty members at the universities located at farflung areas and ultimately to uplift the standard of education in Pakistan
BENEFITS & OPPORTUNITIES
Through Video Conferencing facility the students will have the opportunity to learn from high profile teachers, exchange their ideas, contribute & share their research work. This will not only enhance their knowledge & capabilities but eventually the standard of education in Pakistan.

As a result of the implementation of this project, Pakistan's education standard will become comparable with any of the world class universities. The facility will be utilized for conducting conferences/ meetings and will save precious resources including time and money.
VIDEO CONFERENCING FACILITY AT PU
This Video Conference Hall has been established in Under-Graduate Block having the capacity of 36 seats. IT Centre managed, tested and commissioned this IP-Based Video Conferencing system. This facility will be available for whole university under the supervision of Mr. Intikhab Alam, Director, Information Technology Centre, PU.

All the departments can use this facility for following activities from any other University/ Organization (Local/ International),

•

Online Lecture

•

Conference/ Discussion

•

Seminar

•

Meetings

•

Quiz/ Speech Competition, etc
NOTE:
This is IP-based Video Conferencing System, remote location should have the same facility.
Mr. Yassar Sajjad, Focal Person
will co-ordinate for all the arrangements for Video Conferencing.
Click Here to download REQUISITION FORM for availing Video Conference facility