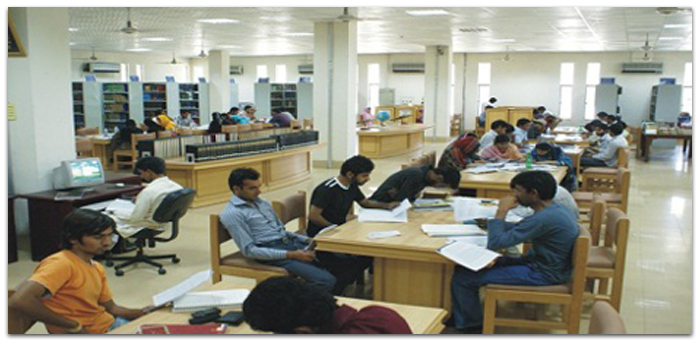 The library remained in its old building upto 1988 and in the same year it was shifted to its present two storied building. The total area of library is 1,02,000 sq. feet with a basement of 10,000 sq. feet. It started functioning with the purchased collection of Sir Donald Macleod's 2000 volumes, and it boasts a book collection of 550,000, which includes 25,000 manuscripts, 300 Foreign & local Journals, 25,000 online full text forign journals and 65200 bound volumes of national and international research journals covering various discipline taught in the University.
This prestigious library has more than 50,000 volumes of old documents published during the later half of 19th and first two decades of 21st century. The library has 1750 microfilms of rare material. It is a depositary library for the UNO publications. It has more than 25000 members comprising of faculty members, students and other researchers of the Punjab University and its affiliated colleges.
In addition, each teaching department/ Institute/ Constitute college has its own library where books and research journals, mainly in the respective specialized areas provided.
Some of the biggest libraries are those of Oriental College, Law College, Hailey College of Commerce and Department of Islamic Studies, Department of English and Institute of Chemistry where over 57,335, 48, 725, 36,845, 20,149, 15,738 and 13,130 books, respectively are available. In addition, these libraries also receive many periodicals and research journals. The total number of books in all the University libraries are over 13,00,000.
The Library has developed a database under the CDS/ISIS designed by the UNESCO to cater the needs of its patrons. Online public access catalogue (OPACs) terminals are available for searching. A PC cluster giving access to software packages and an Internet Lab. having 260 computers at present. There are about 5000 registered members of the lab. And the number is increasing. Approximately 100-150 students, faculty members and research scholars use the Internet service daily.
Click Here for PU Main Library Website.