LAHORE: (Monday, November 6, 2017): Punjab University College of Earth and Environmental Sciences in collaboration with d2W Pakistan-Business Dynamics Pvt. Ltd, a leading brand of Oxo-biodegradable plastic technology recognized in more than 98 countries, has launched a massive campaign "Say No To Plastic Pollution" and organized an awareness walk here on Monday.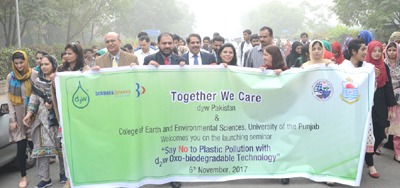 Punjab Environment Minister Mrs Zakia Shahnawaz was the chief guest of the seminar while Environment Protection Department Director Mr. Naseem ur Rehman, d2W Pakistan Business Dynamics Managing Director Mr. Amir Younis, Principal College of Earth and Environmental Sciences Prof Dr Sajid Rashid, faculty members and a large number of students were present on the occasion.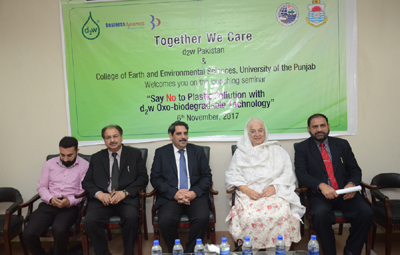 Addressing the seminar, the speakers said that the campaign was aimed at creating awareness about the plastic pollution among the students and community and addressing the problems and solutions of the issue. They said that plastic pollution and subsequent environmental damages were major challenges to Pakistan. They said that plastic could persist in the environment for several hundred years. They said that plastic waste posed serious environmental hazards and health problems in humans as well as in animals. Later, an awareness walk was organized in which participants were carrying anti-plastic pollution slogans.