"World Quality Day" was celebrated in Punjab University in collaboration with Virtual University of Pakistan on 22nd December, 2014. Vice Chancellor, University of the Punjab "Prof. Dr. Mujahid Kamran" was the Chief Guest and Rector Virtual University of Pakistan "Prof. Dr. Naveed A. Malik" was the Guest of Honor in the event. Registrars of both universities, QEC Heads of various universities of Lahore, heads of departments, faculty members of both universities were participated in the event.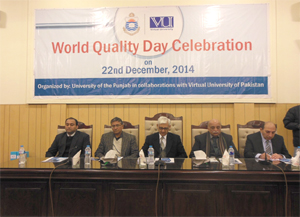 Speaking on the occasion Vice Chancellor, University of the Punjab said that quality education without quality teachers is impossible. He also emphasized that research students ratio in our universities should be raised.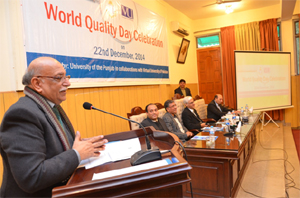 Rector virtual university of Pakistan told the audience that average students should also be enrolled in our leading universities to give them quality education. Registrar virtual University of Pakistan gave a comprehensive presentation on "Quality Management as the Special Case of Change Management".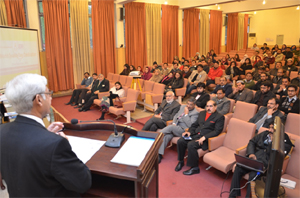 In his welcome speech Director QEC PU, Prof.Dr. Aamir Ijaz explained the purpose of celebration of "World Quality Day". He also discussed the milestones achieved by QEC at Punjab University. He thanked all the guests especially chief guest and guest of honor for their precious time. In the end Fateha was offered for departed souls of Peshawar attack.