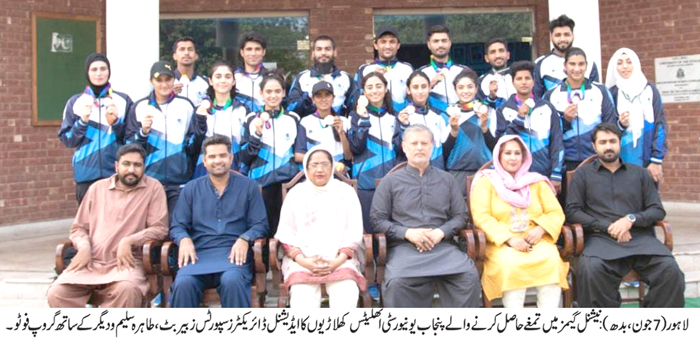 LAHORE: (Wednesday June 07, 2023): Punjab University athletes have participated in the National Games held in Quetta and showcased their talent and represented Higher Education Commission with great pride in the 2022-23 season.
PU's female athletes Amina Azmat got silver medal in Basketball, Shumaila Allah Ditta, Fizza Sarwer & Rukhsar Mumtaz clinched Bronze Medal in Softball, Syeda Nida Fatima won Bronze Medal in Karate (70-Kg) while in Table Tennis Minahil grabbed Bronze Medalas well.
In Boxing (40-Kg) competition Sajiha got Bronze Medal, Mishal Waeen, Sehar Waeen & Aman Javed in Judo (-40 Kg), (52-Kg) & (70-Kg) category grabbed Silver Medal and Bronze Medal respectively.
In Archery Nighat grabbed Silver Medal while Sunaina, Noor Us Saba and Nadia Ayesha got Bronze & Silver Medals in Relay and Shot Put competitions. Mafia Parveen, Tehreem Alam Mir, Noor Us Saba, Shumaila Ahmed, Aman Javed, Amina Haleem, Amina Shahazad, Nimra, Tehleel Fatima, Safa and Zeba Nawab in Handball won Bronze Medal. In Football team event Sehar Afzal, Mafia Parveen, Mahnoor Afzal and Tehleel Fatima got Bronze Medal while in Volleyball team event Farah, Fizza, Zeba and Zaiba Nawab also clinched Bronze Medal. In cycling competition Ayesha, Uswa, Adeen and Aqsa Ahmed got Bronze Medal as well.
Meanwhile, in male athletics' Boxing competition Asmat Ullah and Muhammad Zafar in (57-Kg) and (48-Kg) got bronze medal while Samiullah and Muhammad Asad got Bronze medal in relay race.
In various competitions of Rowing Gohar, Hammad, Rauf, Adil and Abdullah collectively grabbed 10 Bronze Medals. In Badminton team event Tayab Shafiq, Hamza Khan and Rana Amraiz Khalid got Bronze Medal as well.
Punjab University Director Sports Prof Dr Muhammad Zafar Iqbal Butt said that the event not only celebrated the exceptional abilities of the players but also highlighted the importance of sports and physical fitness in the overall development of individuals and the nation as a whole.
He said that the opening ceremony was graced by the esteemed presence of Prime Minister of Pakistan Mr Muhammad Shahbaz Sharif. In closing ceremony, President of Pakistan Mr Arif Alvi presented prizes to the well-deserved winners of the tournament, among them a notable contingent of star players from PU proudly represented the Higher Education Commission in the National Games.
He congratulated the athletes to earn fame for PU and the sports dependent as well. He said that PU would continue to play its role for the promotion of sports in the country. He thanked Dr Khalid Mahmood for his support.