Indonesian delegation visits PU
LAHORE: (Wednesday, January 25, 2012): A three-member Indonesian delegation led by Ambassador Ishak Latuconsina, visited the Punjab University and called on Vice-Chancellor Prof Dr Mujahid Kamran in his office here on Wednesday. The others members included Head Department of International Relations University of Indonesia Dr Hariyadi Wirawan and Head of Chancery Kusdiana, while from PU Director External Linkages Maria Maldonado and Chairperson Political Science Department Prof Dr Umbreen Javaid were also present on the occasion.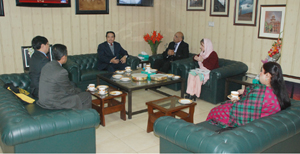 Talking on the occasion, VC Prof Dr Mujahid Kamran stressed the need of mutual cooperation to facilitate scholars in academic and research activities. He appreciated the efforts of Director External Linkages Maria Maldonado to strengthen ties with other universities in this regard.
Indonesian Ambassador Ishak Latuconsina said he felt immense pleasure to visit the PU. He said apart from political science, cooperation in other areas of mutual interest could also be promoted. He also stressed the need to promote linkages at university level among both the countries.